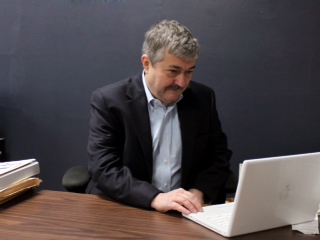 Trademarks,Copyrights and Litigation

"I counsel clients to do things right and avoid problems. I want my clients to develop, protect and use their intellectual property to make themselves grow. I am constantly struck by how clients appreciate my calm and creative thinking." -Chuck
"I have successfully litigated many trademark and copyright cases in my career, but I am always the last person to recommend litigating. " -Chuck
Chuck's Professional Highlights
Intellectual property counseling and litigation. Appellate practice, trial work, Trademark Trial and Appeal Board (TTAB) and Uniform Domain Dispute Resolution (UDRP) practice. Experience includes briefing and appellate arguments in the Second and Federal Circuits, bench and jury trials in the S.D.N.Y., arguments before the Trademark Trial and Appeal Board; litigation through motions or settlement ending cases in the Federal Courts.
Legal industry experience for more than 35 years
 Successful opposition to Rule 12(c) motion to dismiss graphic artists' law suit against company using copyrighted materials. Smith v. Mikki More LLC, 21 F. Supp.3d 276, 110 U.S.P.Q.2d 1746 (S.D.N.Y. 2014).; and Smith v. Mikki More LLC, 59 F. Supp. 3d 596 (S.D.N.Y 2014), successful opposition to summary judgment motion and successful cross-motion establishing copyright infringement.
Successful argument granting defendant's motion for summary judgment on all claims brought by plaintiff in a gray market case involving Russian sunflower seed. Zip International Group, LLC v. Trilini Imports, Inc., 2011 WL 2132980 (E.D.N.Y.)
Successful summary judgment motion on behalf of copyright owner against former employees who developed and sold infringing software product. Business Management International, Inc. v. Labyrinth Business Solutions, LLC, 2009 WL 790048 (S.D.N.Y. 2009).
In a case involving brands of Russian chocolates, won summary judgment that non-exclusive trademark licensee had no standing to bring infringement actions. Krasnyi Oktyabr, Inc. v. Trilini Imports, 578 F. Supp. 2d 455 (E.D.N.Y. 2008); see also Krasnyi Oktyabr v. Inc. v. T.G.F. Productions, LLC, 2008 WL 4426961 (E.D.N.Y.); Krasnyi Oktyabr, Inc. v. Trilini Imports, 2007 WL 1017620 (E.D.N.Y.).
Successful argument for the denial of a motion for preliminary injunction involving trademarks on two protein nutritional powder products. Natures Best, Inc. v. Ultimate Nutrition, Inc, 323 F.2d 429 (E.D.N.Y. 2004).
Represented Dutch owner of a trademark for condensed milk against Vietnam company that had appropriated its brand during the Vietnam conflict and was trying to enter U.S. market with brand. Successful on the majority of summary judgment and in refuting motion to exclude plaintiff's expert witnesses. Friesland Brands, B.V. v. Vietnam Nat'l Milk Co.228 F. Supp. 2d 399 (S.D.N.Y. 2002); Friesland Brands, B.V. v. Vietnam Nat'l Milk Co., 221 F. Supp. 2d 457, 59 F.R.Evid.Svc. (S.D.N.Y. 2002).
Succeeded on opposition to cancellation brought by restaurant against owner of the trademark for the ale, MURPHY'S IRISH STOUT. Murphy's Ltd. v. Murphy Brewery Ireland Limited, Cancellation No. 25,091 (T.T.A.B. 2000), aff'd w/o opinion 25 Fed. Appx. 987, 2001 WL 1587433 (Fed. Cir. 2001).
Succeeded on argument denying motion to dismiss trademark infringement action brought by a French champagne company against another French champagne maker. Heidsieck & Co. Monopole S.A. v. Piper-Heidsieck, Ancienne Maison Heidsieck Fondee En 1785, 2001 U.S. Dist LEXIS 2794, 2001 WL 263029 (S.D.N.Y. 2001).
Won summary judgment that copyright registrant who registered after infringement commenced could not obtain either statutory damages or attorney fees. EZ-TIXZ v. Hit-Tix, 969 F. Supp. 220 (S.D.N.Y. 1997).
Bachelor of Arts in English Literature from Ohio State University and J.D. from American University.
Admitted to the bar in New York State and the District of Columbia, U.S. Courts of Appeals for the Second Circuit, District of Columbia Circuit, &amp Federal Circuit, S.D.N.Y., E.D.N.Y., D.Colo. & D.D.C, U.S. Tax Court.
Chuck's Bio
I grew up in Urbana, Ohio, about 50 miles west of Columbus. This was a town of about 10,000 set amid farms, full of little manufacturing plants that prospered in 1950s and 60s America. Urbana was home to the main airplane light manufacturing company in the country. My father worked there from time to time in the engineering department figuring out how to shield or neutralize the lighting systems so that the radio and radar in planes was not affected by the planes' lighting systems. It was my dad's experience that drove me to becoming an intellectual property lawyer When he was in the Army Signal Corps and Army Air Force in World War II, he worked in radar. Then as the state police around the country were adopting radar to catch speeders, he devised an early radar detector for motorists. He took the device to an electronics company and without a non-disclosure agreement but a "trust me" from the executives, gave away his technology. He never made a dime from his invention. My mother was a high school home economics teacher.I could not wait to leave my small home and go to college. After a freshman year at Bowling Green State University, I transferred to the much larger Ohio State University in Columbus and eventually I became an English literature major with a lot of Russian courses. I then enrolled in grad school to get a Masters in that subject but when I found the courses meant reading more criticism than actual texts, I dropped out. I was hanging out, running the microfilm department at the OSU library, when Kent State exploded and soon tear gas seeping into my the microfilm reading room at the library. That was the moment when I decided to go to law school. Along with a lot of other people. It seemed to me that something had to change with the world.I chose American University in Washington, DC. During law school my best friend in college and I decided to write plays and we wrote a musical tragedy based upon King Lear that was produced off-Broadway in New York City to resounding critical disclaim and expressions of agony.
During law school, I worked at clerkships, finally office of Congresswoman Pat Schroeder from Denver, Colorado, as a Legislative Assistant. I handled energy policy in our first Energy Crisis, the 1976 Copyright Act and the Denver Mint. I spent some interesting times in Denver and touring oil shale mines in western Colorado (the "fracking" concept of the 1970s). I became Pat's Staff Director and Counsel at the House Committee on Post Office and Civil Service's Subcommittee on Employee Ethics and Utilization, which had partial jurisdiction over what became the Ethics in Government Act eventually signed by President Jimmy Carter. I spent some time in the West Wing as this bill went through the process.
I met my wife Kate Roth in Washington–at the Tune Inn on Capital Hill, renowned for its matchmaking. She was working for CBS News as Eric Sevareid's research assistant and when Sevareid retired, we were ready for a bigger town and I for more playwriting and we moved to New York City.
I became an editor at Matthew Bender & Co and soon was in charge of all the intellectual property law books and Kate worked at 60 Minutes. I worked with Don Dunner, Melville Nimmer, Donald Chisum, Jerry Gilson, Roger Milgrim and many others on their treatises and developed new books on intellectual property counseling and litigation. I worked on getting these books onto Lexis and helped the legal publishing industry become digital. In the process, Bender was bought by Lexis and we were downsized.
I became an intellectual property lawyer. I established a solo copyright and trademark practice.  I found that I liked litigation in federal court. Soon, I took my clients, many of whom are still with me 25 years later, to a IP law boutique and then to a food and drug and trademark firms. I worked on some very interesting cases such as Murphys Inc. v. Murphy Brewery Ireland, which I argued before the Federal Circuit at the University of North Carolina Law School (one of the few cases where I have actually argued a case with a crowd (law students) watching). I also had a trial in an trademark infringement case before Justice Sotomayor when she was a District Court Judge in the Southern District of New York and later argued a Second Circuit appeal in another case before her when she on a panel of that court as an Appellate Judge. I was also part of extended litigation happening simultaneously in the US, France and Africa concerning the coexistence of the marks of Piper Heidsieck S.A. and Heidsieck & Co. Monopole for champagne—marks which came out of the same family vineyards in Rheims, France and were separated due to family squabbles 150 years ago.
Admitted to the bar in New York State and the District of Columbia, Federal courts: Courts of Appeals for the Second Circuit, District of Columbia Circuit &amp Federal Circuit, S.D.N.Y., E.D.N.Y., D.D.C., D.Colo. & U.S. Tax Court.
Please use the Contact Us link for new client inquiries or leave a voicemail at 646-741-5614.